I recently started working in a separate studio space outside of my house a couple days a week. I still work from my home most of the time, but it's nice to have the option to leave and be able to focus without interruption. The first thing I wanted to do was set up a space that was inspiring and very "me", so painting the room was #1 on my list. I decided to do something extra fun-- give my space a giant unicorn. I mean, I love pink and I love unicorns, so it seemed like a no-brainer. I'm partnering up with
ScotchBlue™

Painter's Tape
today to show you my process!
This is what I started with. I decided to paint this wall a bold pink ("Frosted Watermelon" to be exact). It only took me about two hours to completely finish it all with edging. Win!
Next, my goal was to project a horse/unicorn image on the wall and trace it, but this room is quite narrow and we couldn't get the image big enough. Luckily, I spent many, many hours as a child obsessing over and drawing horses, so I took a pencil and went to town free-handing a unicorn on the wall.
Once I was happy with the shape, I filled the whole thing in with white paint. This took a couple of coats because I was using regular acrylic craft paint.
When the white paint was totally dry (it's recommended to wait 24 hours), I began measuring out my
ScotchBlue™ Painter's Tape Delicate Surfaces with Advanced Edge-Lock™ Paint Line Protector 2080EL
and started applying to the unicorn. I did a test section initially so I could get a visual on how it was going to look. I found putting the tape on diagonally one way to completion was smart before going the opposite direction. This aids in pulling the tape off quickly in the end.
Next, I filled in all of the white space with grey paint, and waited for that to dry before I pulled the tape from my unicorn.
Besides the finished product, pulling the tape off was the best part of this project! Seeing each sharp line take shape with every run of tape removed was so fun!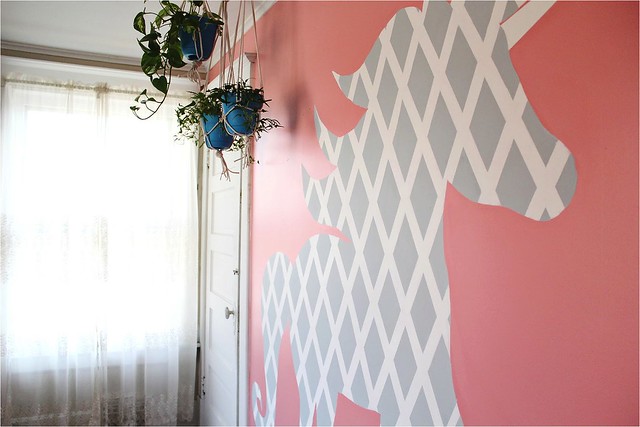 I love this unicorn and the fact that it looks like a giant wall decal, but worked out to cost a lost less than a decal this size would! Now, if you'll excuse me, I'm going to get back to sewing in my new studio space! xo.
I am proud to be a 3M sponsored blogger, and, as part of my responsibilities, I get the opportunity to evaluate ScotchBlue™ Painter's Tape. Opinions are my own and additional products used in the project were selected by me.
Facebook
,
Pinterest
,
Twitter